We update our review of the market leader in small business cloud accounting systems.
Xero has become the dominant player in the Australian small business accounting market, due largely to its 'cloud native' credentials, strong support for third-party apps, clever marketing and focus on software design – and its claim of "beautiful accounting software" isn't without foundation.
It's not perfect, however – or cheap. To help you decide whether it's worth the price for your business, here's our original 2017 review of Xero – part of our series on small business cloud accounting systems – followed by an update on the new features added over the past year.
The basics
Xero provides some very smart workflows. For example, the process of creating quotation through to invoicing and payment is very slick.
The quotation email contains a link to a page where customer can look at the quote and accept or reject it, optionally adding a comment. That accept/reject response shows up in Xero (you also get an emailed alert) and from there one click generates and sends the invoice including a 'pay now' link, so if you've connected the relevant bank account or payment processor, the job is effectively done.
Then it's easy to accept payment, although you might not need to do that if you've linked the bank account. We recently had some work done by a tradie that uses Xero, and the quote/accept/invoice/payment process worked very well from a customer's perspective. We're not saying this is unique to Xero, only that it is well implemented.
Xero supports a relatively extensive list of payment gateways, including Braintree, eWay, PayPal, and Stripe.
Xero can track inventory, but there doesn't seem to be any provision for alerts when reorder levels are reached. If you don't like the way Xero does inventory, there are inventory add-ons.
Purchase orders are simply generated, and easily turned into bills at the appropriate time.
Room for improvement
Processing over-the-counter or cash-with-order transactions isn't as simple as it could be. You have to start by entering the invoice and then click the Approve (not Save) button. (Separate Save and Approve buttons seem confusing at first, but are presumably useful for businesses that separate the roles invoice entry and invoice approval – Xero does make provision for a range of roles.) Then you can enter the payment details, but the invoice closes once you've done that, so you need to select it from the list and print it.
An alternative is to handle cash sales by selecting Receive Money and entering the details. But then the paperwork comes out headed "Receipt" rather than the magic words "Tax Invoice" (if there's a way around that we couldn't find it) and you have to nominate a bank account to receive the money rather than holding it as cash.
Payroll and reporting
The payroll module was average in terms of ease of setup. The main problem (as with some of the other systems reviewed here) is that certain things have to be done before others, but there's nothing that leads you through the right sequence.
For example, you can create a new item while creating an invoice, you but can't create a pay group while creating an employee. Consequently, you can run into a lot of dead ends if you work in an order that makes sense to you but isn't what Xero demands. Even if you would have been prepared to set up the general accounting side of Xero for yourself, professional help seems advisable if you're going to use payroll. Once set up, running the payroll seemed straightforward.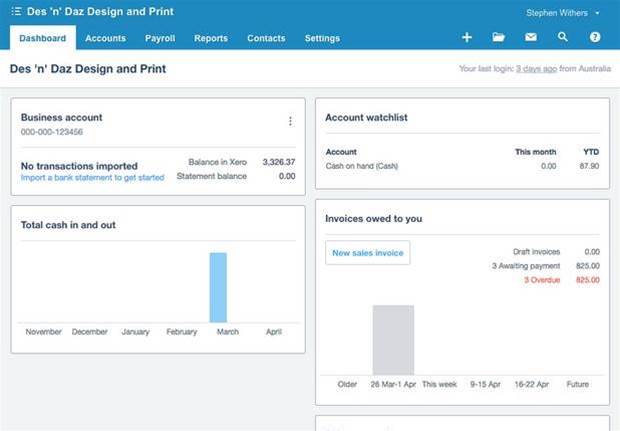 Timesheets are included, but they only seem relevant to payroll – there's no provision for tracking time spent on particular projects, or for billing employees' time to customers. For that you need to turn to third-party add-ons.
That neatly illustrates Xero's approach, which could be summarised as "we'll do the core accounting system with just enough extra functionality to make us sufficiently appealing to potential customers, but we'll leave the rest to our partners." The flipside is that the total cost can be greater than that of an accounting system that includes equivalent capabilities.
Third-party support
Xero provides APIs for accounting, payroll, assets and files, and has long been known for the large number of available add-ons – now more than 500, according to the company. Xero was one of the first in the accounting field to really understand the power of the cloud when it comes to integration.
Well-known names among the add-ons include Constant Contact (bulk email), Debtor Daddy (automated invoice chasing), Deputy (employee scheduling and time tracking), eBay (ecommerce; via OneSaas), eWay (payments), Expensify (receipt and expense tracking), G Suite (formerly Google Apps), Kounta (POS), Magento (ecommerce; via OneSaas), MailChimp (bulk email, via OneSaas), Moula (lending), NAB (lending), Office 365, OFX (currency exchange), PayPal (payments), Podio (project management), Receipt Bank (receipt and invoice capture, OCR and storage), Salesforce (CRM, via OneSaas), Sendle (shipping), Shopify (ecommerce), Sky Payroll (payroll), Square (payments), Squirrel Street (formerly Shoeboxed, for document capture, OCR and storage), Stripe (payments), SugarCRM (CRM), Tradify (job management), Tsheets (employee scheduling and time tracking), Unleashed (inventory), Vend (POS), and Woocommerce (ecommerce, via OneSaas).
Usability and conclusion
Xero is another of those systems that doesn't print invoices or receipts, but instead downloads PDF files. Users have apparently been complaining about this for about five years. Since reports can be printed directly from the browser, we're not sure what the problem is. And having to enter a due date for every invoice gets old quickly.
Another issue in common with some other cloud accounting systems is that error messages are displayed at the top of data entry forms, so you can't see that something's wrong when, for example, you click Save. Nothing seems to happen, so you click Save again in case the original click was slightly off-target, and when there's still no obvious change you scroll to the top to see if there is an error message. Yet auto-scrolling occurs when the transaction was successful.
We didn't find Help very helpful. We too frequently had to retype the search string when the help site opened, and the quality of the search results were poor, with user discussions outnumbering definitive information. Unticking the Community box can help reduce the clutter, but you'll find it selected again the next time you use Help.
Xero's $25 plan is extremely limited – just 5 invoices and quotes, 5 bills, 20 bank transactions and payroll for one employee. Lifting those limits (except for payroll) doubles the price, then a further $10 premium provides payroll for up to 5 employees, auto-superannuation and multi-currency support.
This is why we've rated Xero below competitors such as Sage One that appear to provide better value for money. On the other hand, if you take advantage of Xero's strengths such as the extensive range of add-ons, it could be well worth paying the premium.
2018 update
Xero has had a busy year since our review. On the payments side, there's an improved invoice template said to lead to even faster online payment, simplified Stripe and PayPal integration, the ability to charge Stripe fees to customers, and (for iOS users) invoicing and quote reminders via Siri.
Workflows have been improved with enhanced searching; contacts management on iOS; the ability to create invoices, quotes and receipts on iOS and Android; account code suggestions when creating invoices (using machine learning); live previews of invoices, and the ability to drag and drop files into Xero when using iOS 11.
Xero Projects ($10 per month for the first user, plus $7 a month for each additional active user) provides integrated job cost tracking and reporting. It supports unlimited projects, providing real-time visibility of all work in progress and the ability to monitor budgets and costs. Time spent and any related bills or expenses can be invoiced to the customer.
Cashflow and compliance changes include a new cashflow graph (iOS), a list of unpaid bills (Android), rules for transfers between accounts so they are automatically coded, account code suggestions for bills (powered by machine learning), the ability to import bank statements in Excel format, simpler BAS reporting, and the ability to transfer a bank feed to another organisation.
The big change to payroll is the new auto super feature. In conjunction with a superannuation clearing house, this makes it easier manage, track and pay employee contributions in Xero, as well as providing proof of payments. The payroll module has also gained the ability to calculate employment termination payments, prepare the payment summary and lodge it directly with the ATO.
To help keep your accounts secure, Xero has added Password Manager support on iOS, along with the ability to log into the Xero app using Face ID on the iPhone X.
The pricing of Xero business edition plans remains unchanged, but the company has switched to billing in advance rather than in arrears. In one of those "why didn't they think of that before" moves, Xero now sends online invoices rather than PDFs so they are automatically entered into customers' accounts.
Several other new features are imminent. They include adding QR codes to printed invoices so that customers can scan and pay online via their mobile device, faster invoicing (thanks to pre-populated fields, auto-save, and the ability to add new contacts or edit Inventory items on the fly without leaving the invoicing screen), and a "personalised support experience" for learning about Xero and quickly getting the right answers to questions.
Accountants and bookkeepers will soon be required to use two-step authentication (via Google Authenticator or WinAuth, for example) in order to comply with ATO requirements.
Xero Expenses ($5 per month per user) will feature simplified claims processing, powerful analytics and fully integrated accounting.
Improvements underway for Xero Projects include a stop/start timer in the mobile app to record time spent on chargeable work, a time detail report to show how much time is being spent on each project and what proportion is chargeable, customisable user permissions to control access to information and activities, and a staff performance explorer to a view of staff time across all projects or clients, or for a certain time period.
Extensions to the existing "discuss" functionality will help businesses have real-time, contextual conversations with their accountants or staff about particular items such as bills and invoices, helping to speed up discussions and lower errors.
Xero is working on STP compliance, and forthcoming support for ATO Connect will simplify the preparation of activity statements for the ATO.
See our accounting feature for more advice on choosing a cloud accounting system and details on how we tested, or select another review below. 
We can see why many businesses like Xero, but it can easily cost you a lot more every year than some of the alternatives. If it suits the way you operate, that could be money well spent.

From $25 AUD

Includes quoting, invoicing, online quotes/invoices, purchases, purchase orders, inventory, payment gateways, bank feeds, payroll, documents attached to transactions, mobile app, and support for more than 500 third-party integrations.