"It shouldn't be just one point of view that is presented in museums," said Montreal Museum of Fine Arts chief curator Mary-Dailey Desmarais. "We're really trying to present other narratives of art and art history."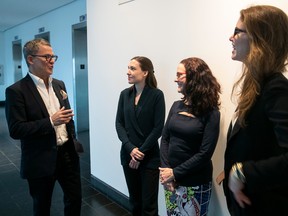 Postmedia may earn an affiliate commission from purchases made through our links on this page.
Article content
The museum announced seven new exhibitions, including a survey of women in design, two exhibitions of Indigenous art, a celebration of pop art from the institution's collection and solo exhibitions by three women creators, including a series of new paintings by Quebec transdisciplinary artist Françoise Sullivan, who turns 100 in June.
Article content
"What we really wanted to do this year is focus on the diversity of artistic expression coming out of Quebec, Canada and the Americas," said Mary-Dailey Desmarais, chief curator of the MMFA. "This program puts forward great women artists and great Indigenous artists with the goal of having not only an authentically equitable program, but it's really about inspiring new ways of seeing and engaging with art, with art history and our time."
Article content
Parall(elles): A History of Women in Design (Feb. 18 to May 28) presents close to 250 works and objects — from artisanal craftwork to industrial design, ceramics, glass, jewelry, furniture and fashion — by women designers in Canada and the United States over the past 150 years.
The show, which includes many works from the collection of the MMFA, examines why women have long been under-represented in design, and considers issues of gender, identity, race, culture and class.
"With this exhibition, we try to develop a broader definition of design," said Jennifer Laurent, curator of decorative arts and design at the MMFA, who notes that the show features works by several Montreal artists and designers.
Nalini Malani: Crossing Boundaries (March 23 to Aug. 20) is the first Canadian solo exhibition by the pioneering Indian multimedia artist. It includes her most recent nine-channel video installation, Can You Hear Me?, reflecting "a human brain full of turmoil and ideas," for the first time in North America.
Article content
Wolves: The Art of Dempsey Bob (May 18 to Sept. 10) is the first career retrospective of the Indigenous master carver and storyteller, featuring works from the 1970s to the present. The show will be presented in five Canadian cities.
The Portable Universe: Thought and Splendour of Indigenous Colombia (June 3 to Oct. 1) is a major exhibition of Colombian art. The show features 400 works, including gold pendants and masks, offerings, ceramic effigies, mystical creatures, rare ancient textiles and watercolours.
Pop Art in the Collection of the MMFA (Aug. 31 to March 24, 2024) presents works by Canadian artists including Pierre Ayot, Edmund Alleyn and Joyce Wieland alongside international names like Andy Warhol, Richard Hamilton and others.
Article content
Marisol: A Retrospective (Oct. 7 to Jan. 21, 2024) looks at the oeuvre of late American-Venezuelan painter and sculptor Marisol Escobar, who was a contemporary and colleague of Warhol.
"It's the most important exhibition ever done on Ms. Escobar," Desmarais said of the show, organized by the Buffalo AKG Art Museum.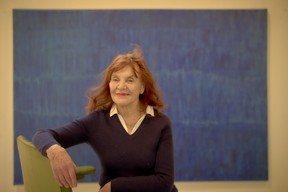 A new exhibition by iconic Quebec artist Sullivan (Oct. 31 to Feb. 18, 2024) features a selection of paintings from a series begun this year, as well as works from the MMFA's collection.
Born in Montreal in 1923, Sullivan was one of the signatories of the Refus global manifesto in 1948 as a founding member of the Automatistes, alongside Paul-Émile Borduas, Jean-Paul Riopelle and Marcelle Ferron. Her work over the decades has included dance, performance, painting, sculpture and photography.
Article content
Together, Desmarais says, these exhibitions represent an attempt by the MMFA to modernize its programming by looking critically at its collection and telling new kinds of stories.
"It's absolutely at the forefront of our reflection," she said. "How can we think differently about what this institution is? I hate to use the word 'decolonization,' which is about undoing something. Is it really undoing, or is it opening up and asking questions, taking bold steps to approach subjects we think we know from a completely different angle and show there's not just one way of seeing art, there are multiple ways?
"It shouldn't be just one point of view that is presented in museums. We can use words like 'polyphonic' or 'multi-vocal.' In museums, we are custodians of works of art in the past and the present. … We're really trying to present other narratives of art and art history."
Article content
Museum director Stéphane Aquin agrees. Founded in 1860, the MMFA is one of the oldest museums in North America, he noted, but it has a responsibility to reflect the changing realities of Montreal and the world.
"How do we move into the 21st century?" Aquin asked. "You can't just talk about (different communities), you have to talk with them. Museums have to become places of meeting and exchange. We want to ensure what we say corresponds to this sense of a new truth. These exhibitions reflect that reality."