Wellspring Stratford is raising money for its no-cost cancer-support programming for cancer patients, their loved ones and their caregivers through its third annual Light Up fundraiser.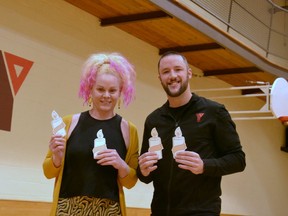 Article content
Wellspring Stratford is once again encouraging area residents to honour loved ones who are battling cancer and remember those who lost that battle by purchasing a paper candle, writing their names on those candles and displaying them for all to see at its third annual Light Up fundraiser.
Article content
This year, the candles are being sold at $20 apiece at 17 local businesses and organizations, with all proceeds going to support the no-cost cancer-support programming offered by Wellspring Stratford.
"It's a difficult time of year and sometimes we don't take a pause to think about the people who are going through cancer treatment or the people that we've lost," Wellspring Stratford manager Lisa Stacey said. "I know there are a lot of members who are going through their first year without their loved one with them, so I think to be able to have something to honour those people and to have a tribute is just so special.
"When people come out to our programs and the members share stories or experiences, it's clear that everybody's been touched by cancer in some way. So I think we all need to come together to support one another."
Article content
And that's what Wellspring does.
Through its various programs, whether it's art therapy or even the new aquafit program offered in partnership with the Stratford YMCA, Stacey said Wellspring aims to support cancer patients, their loved ones and caregivers by providing them with opportunities to enhance their own mental health and well-being and connect with others going through similar experiences.
While Wellspring Stratford has been offering its support programs virtually over the past two years, Stacey said classes are beginning to return to an in-person format and, through Wellspring's partnership with the local YMCA and with the support of the community, she hopes to continue expanding Wellspring's available offerings.
Article content
As part of this year's Light Up fundraising efforts, Wellspring has arranged for or are participating in several local events and activities.
On Dec. 2, Sirkel Foods on Wellington Street in Stratford – a business that has participated in the Light Up fundraiser for the past two years – will be selling a special Wellspring-wich with a portion of the proceeds going to support Wellspring Stratford.
On Dec. 3, Wellspring volunteers will be at the Holiday Bazaar at Anne Hathaway Retirement Residence from 9 a.m. to noon answering questions about Wellspring and the Light Up campaign.
On Dec. 8, starting at 6:45 p.m., Stacey will lead a by-donation Light Up yoga fundraiser at the Stratford YMCA open to all.
And on Dec. 15, Wellspring Stratford will host a holiday open house from 2 p.m. to 4 p.m. at its new location at 55 Lorne Ave. E.
For more information about Wellspring Stratford's Light Up fundraising campaign or to donate online and have a candle added to Wellspring's virtual tribute wall, visit wellspringlondon.akaraisin.com/ui/lightup2022.