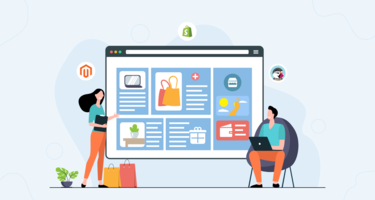 Do you want to create an eCommerce website? Then you must have a marketable product or service along with a fair amount of investment with CMARIX TechnoLabs. We cater to the needs of the people when searching for an eCommerce platform by considering what kind of users need what? Here comes the three big names eCommerce platform such as Magento, Shopify, and PrestaShop. Where Shopify and Magento are reputed as well as popular platforms with a good track record of providing merchant solutions for several top-notch brands such as Olympus, Louboutin, Ford, Nike, Penguin Books, Tesla, etc. On the other hand, PrestaShop is the underdog. So, what we do is to help you understand which environment you should consider so that the new direction you take is the right one. So, no matter whether you are a massive retailer, midsized business owner, or a start-up, CMARIX can help you meet the demands of your customer by integrating a robust eCommerce development services.
Magento: The B2B Superpower
Today, Magento is the World's #1 eCommerce platform by filtrating grossly $100 billion in merchant sales every year and houses 150,000 developers and more than 250,000 merchants. Magento is itself a feature-rich, open-source eCommerce solution that offers merchants the flexibility of having total control over the content planning of their online store. Yes, Magento prides itself in its flexibility with its capacity to stay ahead of the competition by anticipating the ever-changing needs of the business along with offering an extensive portfolio of design offerings. So, if you focus on customer segmentation and personalization, capabilities of intent purchase, visual merchandising, and responsive design themes, then we will help you integrate a robust Magento eCommerce platform. Thus, we conduct a thorough business analysis and offer the best solution to our clients.
Shopify: Offers Mobility
Simply put, Shopify is all about mobility. This can be termed as a user-friendly platform that powers more than 500,000 businesses along with handling 1,000,000+ active users. Shopify development services is integrated with payment gateways and security in the form of backend code. So, you can set up these features in your online store to offer a safe and simplified eCommerce platform to your customers. Moreover, Shopify can operate eCommerce stores with the same efficiency regardless of your location.
Also Read: Unleash the Mystery Box of Magento, Shopify, and PrestaShop with eCommerce Development Company
Prestashop: The Smart Choice
Prestashop, launched in August 2007 is specially designed for small and mid-sized businesses. When comes to the striking features of PrestaShop, the first thing that attracts business owners is its free version. Yes, you can download it for free from your website. The only thing that you have to do is to purchase some things such as modules, templates, and themes from the PrestaShop store. The other compelling features of PrestaShop include support in 28 languages, reliable web-hosting services, free domain name, free shared SSL, special deals and promotions, cross-selling, and affiliate programs. It supports secure payment gateways such as Google Checkout, PayPal, etc. Moreover, PrestaShop has developed an online forum that helps members to engage and exchange their ideas and queries.
Now, we are going to solve the greatest mystery regarding which platform is necessary for you. If you are looking for aesthetics, Magento, PrestaShop, and Shopify all can provide good results. So, how to choose the best one for you? Yes, here cost matters. We are going to reveal the thing below:
Developing basic Shopify is affordable when considering its 24/7 technical support. PrestaShop is equally affordable along with offering a similar range of functionalities. So, if you are looking for an easy-to-use platform for your mid-sized business, you can easily choose one between the two. But if you have a large-scale business or a giant corporation, it is better to go with Magento. It is because Magento's Enterprise Edition has a fairly seamless track record and no doubt is the best eCommerce platform available to date. But make sure you don't feel like dishing out the $18,000/year implementing a Magento Enterprise Edition.
Again, when you are looking for an eCommerce platform that offers more customized options, then there is no better option than Magento and Shopify. It will offer you customizable options like web and theme design, shopping carts and hosted checkout solutions, custom integration to 3 rd party CRMs, accounting, marketing automation, inventory management, security inscriptions, firewall protections, tokenized data, and custom extensions for your site.
Now it is time for you to tell your specific requirements to our expert eCommerce development team who are capable enough to work closely with you along with ensuring meet all your needs.
Contact:
Company Name: CMARIX TechnoLabs Pvt. Ltd.
Address: 32572 Miller Ct. Temecula, CA 92592
Phone Number: +1 631-206-6051/+91 800-005-0808
Website: https://www.cmarix.com/
More from Thermal & Heating Equipment