SAN FRANCISCO, Dec. 13, 2022 — SingleStore, the cloud-native database built for speed and scale to power real-time applications, today announced the general availability of its 8.0 release, which features even faster analytics, improved developer experience and greater ease of use. The new release is a testament to the company's speed of innovation and impressive momentum. SingleStore was also recently recognized as a 'Strong Performer' in the Forrester Wave: Translytical Data Platforms, Q4 2022 and launched SingleStore Connect, a cloud-based partner ecosystem showcasing the extensive SingleStore partner network and empowering customers to create fast and interactive real-time applications. SingleStore Connect already lists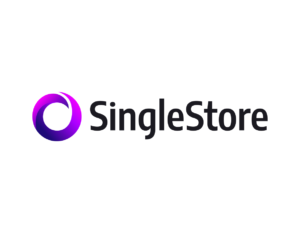 AWS, IBM, Intel, Looker (Google Cloud), SASand TIBCO, among others, in its ecosystem.
SingleStoreDB powers real-time data innovation for hundreds of customers including more than 100 Fortune 500, Forbes Global 2000 and Inc. 5000 brands across fintech, ad-tech, martech and cybertech segments. Companies like Siemens, Uber, Palo Alto Networks, SiriusXM and others use SingleStoreDB to fuel real-time customer experience analytics, supply chain monitoring, sales and inventory management and interactive dashboards.
"The need for real time is here, but it doesn't just happen through sheer will," said Raj Verma, CEO, SingleStore. "Real time has been baked into our foundational design from very early on, and the continued innovation with the latest announcement sets us apart as the world's only unified database that allows you to transact and reason with data in real time in a multi-cloud hybrid distributed environment."
Some of the new product capabilities include:
Real-time analytics:

With new fast seeking JSON for columns, customers can now expect to see up to 100x improvements in query performance for transactional applications that work with semi-structured data such as JSON.
Cloud first:

Dynamic Workspace Scaling: Customers can now scale workspace compute up or down seamlessly (on AWS, Azure, Google Cloud) autonomously with no manual user actions and can Suspend & Resume workspaces as needed so users only pay for what they use.
Monitoring and observability: New real-time and historical monitoring capabilities provide customers with up-to-the second visibility into cluster performance to ensure seamless operations and business continuity.
Programmability and developer experience:

Recursive CTEs (Common Table Expressions): While SingleStoreDB has always supported regular (non-recursive) CTEs, the 8.0 release will include support for Recursive CTEs as well, which makes it easier to perform analytics on hierarchical data such as in-database graph and tree expansions using one SQL statement
New native Laravel driver: SingleStore also recently launched a native driver for Laravel, which is open-sourced and is now available on GitHub, that enables developers to easily and securely build new applications using Laravel and PHP.
New Python connector: SingleStoreDB's new native client for Python helps developers create up to 10x faster connections to the database (compared to a vanilla MySQL connector such as PyMySQL), ensuring blazing-fast applications and analytics.
Wasm Everywhere: With the current release, SingleStoreDB support for Wasm (WebAssembly) will be available for both cloud and self-managed deployments, essentially opening up availability of this key feature to all customers – making it easy to port code libraries or routines (in Rust, C or C++ and soon other languages) into SingleStoreDB.
Security and compliance:

Federated Authentication with OAuth:  SingleStore also now provides extended SSO support for federated authentication using OAuth on the SingleStore cloud service (in addition to SAML). With OAuth support, customers now have a simpler and more secure authentication mechanism. This eases the management of secure connections, especially for mission-critical applications.
"Our new security and networking capabilities enable customers to protect their mission-critical applications. Improvements to fast analytics on structured and semi-structured data give businesses the power they need to deliver real-time applications," said Shireesh Thota, senior vice president of engineering at SingleStore.
"From the Universal Storage capability to accelerating analytical queries including > 100x performance on JSON analytics, SingleStore is on a path of continuous product innovation to ensure customers can quickly and easily derive value from all of their data in real time," said Yatharth Gupta, senior vice president of products at SingleStore.
"SingleStore understands that business happens in real time. This is appealing to organizations like ours that require a modern data infrastructure to deliver best-in-class services," said Premal Shah, senior vice president of engineering and infrastructure and co-founder at 6sense. "SingleStore offers cutting-edge enhancements through its real-time, mission-critical applications that support our technology needs."
"Historically, and based mainly on technical limitations, transactional applications and analytical applications have been segregated," said Nuno Reis, IT director of architecture and transformation at Millennium bcp. "This has brought complexity, ontological misalignment and latency on using data. With the rise of hybrid technologies – where we found SingleStore to be the fastest and nimblest – we are now able to augment transactional applications with analytics, unlocking a real-time architecture by design. This architecture is already supporting mission-critical workloads at scale and speed. SingleStore plays a critical role in the overall architecture in this new applicational topology, which is key in building intelligent differentiated capabilities that drastically improve the customer experience."
"Because of how we now consume data, companies and customers have a growing expectation of immediate, relevant, interactive experiences and communication," said Amy Machado, research manager, Streaming Data Pipeline at IDC. "Real-time datastreams and processing will become the norm, not the exception."
Finally, SingleStore was recently invited to join the World Economic Forum's (WEF) Global Innovators Community to contribute to new solutions that overcome current crises and build future resiliency in data policy. Companies invited as Global Innovators engage with one or more of the WEF's platforms to help define the global agenda on key issues.
About SingleStore
SingleStore delivers the world's fastest distributed SQL database for real-time applications, SingleStoreDB. By combining transactional and analytical workloads, SingleStore eliminates performance bottlenecks and unnecessary data movement to support constantly growing, demanding workloads. Digital giants like Hulu, Uber and Comcast, and many more of the world's leading SaaS providers, choose SingleStore to unleash the power of their data – supercharging exceptional, real-time data experiences for their customers.
---
Source: SingleStore