We update our review MYOB's entry-level cloud accounting system.
Once Australia's dominant small business accounting system – when desktop software ruled – MYOB was relatively slow to move to the cloud, but it's done so reasonably effectively and it's still very popular. You won't have to look far to find a bookkeeper or accountant that supports MYOB.
The company offers a range of cloud solutions for small and mid-sized businesses. MYOB AccountRight is the full-featured package, but it is desktop software that's hosted in the cloud rather than a genuine cloud-based system, in our opinion. So, for our series of reviews of cloud accounting systems for small businesses, we're looking at MYOB Essentials here.
As its name suggests, Essentials doesn't have the most extensive feature set – but that doesn't mean it lacks sophistication. To see if it's right for you, here's our original 2017 review of MYOB essentials – part of our series on small business cloud accounting systems – followed by an update on the new features added over the past year.. 
The basics
It's a simple task to generate a quote or invoice with MYOB Essentials, and then either email or print it. Quotes can be turned into invoices with one click, though there is no provision for making quotes or invoices available online to customers.
Items or customers can be added while creating quotes or invoices, so you don't need to fully populate those lists in advance. Strangely, items have to be numbered. We accept that some people might prefer to use item numbers, but we don't think it should be forced onto those who don't.
Processing payments is also simple, although we found we had to type in the amount received twice when entering the payment, because it didn't automatically allocate the amount even when there was only one outstanding invoice. Also, in an over-the-counter situation it was necessary to reopen the invoice after the payment was processed in order to print the 'paid' version.
Another minor problem with printing invoices and other documents is that the system generates them as PDF files that open in a browser window, leaving you to print them from there. That's not as convenient as direct printing, but it is better than just downloading them and expecting the user to open and print the PDF.
Card payment integration is available via MYOB's PayDirect service, and it supports a big range of bank feeds, which enables you to automatically add or reconcile transactions with real data from your bank account.
Room for improvement
MYOB Essentials does not include inventory – that requires an inventory add-on or an upgrade to MYOB AccountRight. Nor is there provision for raising purchase orders, so if a supplier requires a formal order you'll need to prepare that outside the system and create a bill when the supplier's invoice arrives. And as with receiving payments, we found it was necessary to type in the dollar amount twice.
The In Box feature lets you upload or email TIFF or PDF images of bills to Essentials, which stores the image for later reference (reducing the need to store pieces of paper). It can be linked to a new or existing bill, and where possible data is 'read' using OCR and transferred to the appropriate fields. The OCR process is not instantaneous, so it's probably best to enter a batch of images and connect them with bills some time later.
Maybe we were unlucky with the particular documents we tried, but no data was recognised from a scan of a cash register receipt from a well-known chain of petrol stations, and only the due date was extracted from a utility bill received in PDF form. So we tried another pair of documents with exactly the same result.
We also found that some real-life PDF invoices were bigger than allowed by this feature. A workaround is to first delete any pages showing only boilerplate or other information that isn't specific to the transactions.
Payroll and reporting
Essential's payroll function is quite good. It provides a lot more structure than most during the setup process, so we found that task relatively easy. It was also among the simplest in terms of completing a pay run.
Employees can be invited to complete their timesheets online, reducing admin time. The same portal can be used to view payslips. But Essentials only uses timesheets for payroll, not for time tracking or billing.
The usual range of reports is available. The formatting and used for the balance sheet, profit and loss, and other reports worked for us, and the GST report includes the BAS labels for easy transcription. Accountants and bookkeepers might like seeing account numbers in reports, but we find they just add to the clutter: in our book, "Sales" is preferable to "4-2400 Sales".
Third-party support
MYOB provides good support for third-party developers, offering RESTful APIs that provide access to various types of MYOB data including contacts, inventory items, account balances and invoices.
As a result, and given MYOB's popularity, there are now more than 50 third-party add-ons for Essentials available, some certified by MYOB. Well-known names include Debtor Daddy (for automated invoice chasing), Kounta (MYOB has a stake in Kounta and sells the point-of-sale system under its own brand), ServiceM8 (job management), Squirrel Street (formerly Shoeboxed, for document capture, OCR and storage), and eBility's Time Tracker for timesheets for both billing and payroll.
The Maestrano and OneSaas integration services can connect MYOB Essentials with big-name third-party systems including Bigcommerce (ecommerce), eBay (ecommerce), Eventbrite (event ticketing), MailChimp (bulk email), Magento (ecommerce), Salesforce (customer relationship management), Unleashed (inventory) and Shopify (ecommerce).
Usability and conclusion
MYOB Essentials provides respectable performance, and we appreciated the way pages automatically scroll up when a task is completed to reveal any error or status messages. On the other hand, during our testing some messages persisted inappropriately over a number of screens/pages, and when there is an error it isn't always clear which field is the source of the problem.
It also lacks features such as inventory or the ability to raise purchase orders or (unless you use MYOB's PayDirect service) make quotes or invoices available online to customers. To be fair, MYOB Essentials is really designed for businesses that are a little simpler than the one we envisaged for the purpose of these reviews. But as we've pointed out, Essentials does have its strengths, such as payroll and third-party app support.
It's also quite reasonably priced, although they have been increased over the past year…
2018 update
MYOB Essentials' starter plan (limited to five invoices and 25 bank feed transactions) is now $27 a month, while the plan that removes those limits and adds payroll for one now costs $45 a month. The unlimited payroll plan is now $55 a month.
However, MYOB says it has made "a heap of one percent improvements" to Essentials over the past year, including the ability to add purchase order numbers to customer statements. Such changes are probably significant to only a small proportion of users, but can be a big deal for those who do need them.
Other changes to statements allow greater customisation, such as adding payment details and applying the business's branding.
Two-factor authentication has been added to Essentials. When used – and at some stage it will become mandatory – this makes it harder for unauthorised people to access your accounts. Instead of just entering a password, you'll also need a verification code that's normally generated by an app on your phone or tablet.
To help get the most out of Simpler BAS reporting, Essentials makes it easy to combine unused tax codes.
Changes to Essentials Payroll include the new Earnings/Deductions in the employee tab, along with compliance updates (such as tax table changes, payment summary updates, Reportable Fringe Benefit changes and adjustments to the Working Holidaymakers tax rates).
Looking ahead, Single Touch Payroll (STP) is the big change coming in the next few months. MYOB is committed to adding STP support to Essentials Payroll from 1 July.
We reported MYOB's work on smart billing last year. The idea is to provide larger merchants with a way of pushing their invoices directly into customers' MYOB ledgers – with the customers approval, of course. That facility has been in beta test, and it will be rolled out with Officeworks as the first partner in the coming months.
An updated version of the MYOB Invoices app that works with Essentials for on-the-go invoicing will gain the ability to produce quotes.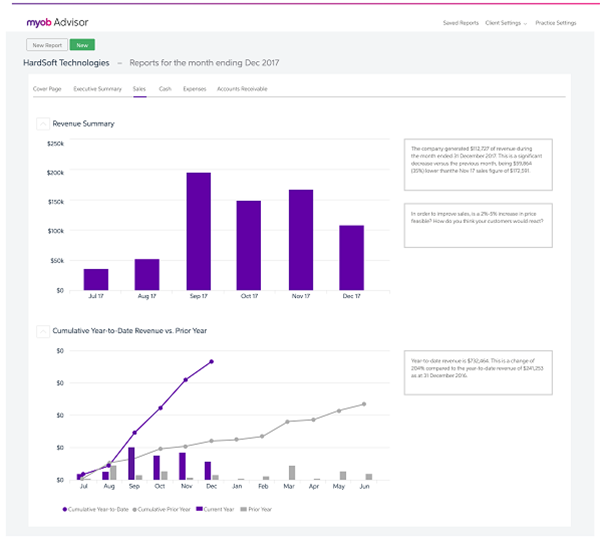 While it won't be available directly to MYOB users, the forthcoming MYOB Advisor tool may make a difference to the quality of the reports they receive from their accountants and bookkeepers. MYOB Advisor uses artificial intelligence to turn business data into simple written sentences to explain business performance.
See our accounting feature for more advice on choosing a cloud accounting system and details on how we tested, or select another review below. 
MYOB Essentials lacks features such as inventory or the ability to raise purchase orders, but it does have its strengths, such as payroll, good third-party app support and reasonable pricing.

From $25 AUD per month

Includes quoting, invoicing, purchases, payment gateways, bank feeds, payroll, documents attached to transactions, iOS and Android apps, and 50+ third-party add-ons.