Adobe's software offering, the Magento eCommerce system, is undoubtedly a winning platform. It offers many capabilities and customizations — almost too many for a small business.
While the free option works perfectly well, to have access to things like SEO, you'll need to upgrade, and that costs significant cash. Plus, it requires a developer's know-how to get set up.
But if you've got the cash and an e-commerce empire, it is a very sharp e-commerce software, offering and powering multitudes of Magento platforms. From its natural customizable features to the thousands of extensions you can opt for, Magento gives you the tools to build an online e-commerce powerhouse.
Who is Magento for?
What is Magento, and who is it best suited for? Magento is without question an enterprise e-commerce software. It offers both B2B and B2C capabilities and is a widely used choice for its customizable nature and high functionality.
That said, though, Magento is probably better suited to bigger business. It requires development knowledge to set up and run, and if you want more than the basic free features, the price tag hops up to thousands a month.
It is a very sleek and professional tool that is designed for scaling large enterprises.
Magento's features
Where almost everyone can agree is the fact that Magento boasts some impressive features, making it a top choice among large-scale business enterprises.
Customization
Magento strives to be more highly customizable and developer-friendly than other software, so you won't necessarily find a library of Magento themes. But what that means is that you can fully customize your website the way you like and need it, plus scale with your business.
Drag and drop capabilities
Uploading media, such as videos, product pictures, lookbooks, etc., is made easy with their media storage. Simply select the page section you want, and then all you need to do is drag your file over.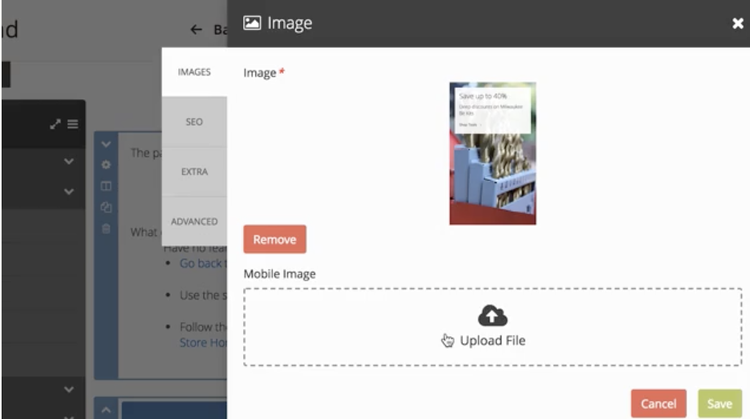 Future view
Running a business means planning ahead. Whether you are scheduling a future discount, redesigning your site, or even just want to check some system updates, you can use the future calendar function in Magento to see precisely how your site will look on a specific future day.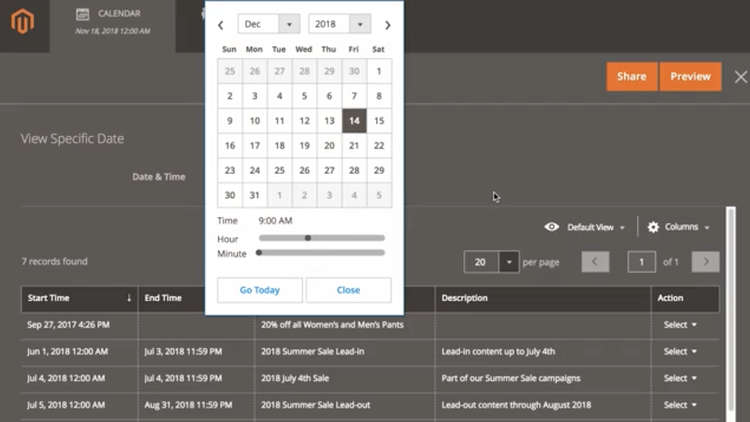 Analytics insights
To manage your business and nurture customers, you need to have good insight into all data. Magento offers multiple levels of sales analytics, covering any number of important data points about inventory, sales, customers, etc., all in varying degrees of detail. It even offers insights into customer retention data, which is a far more specific dashboard than you will often find.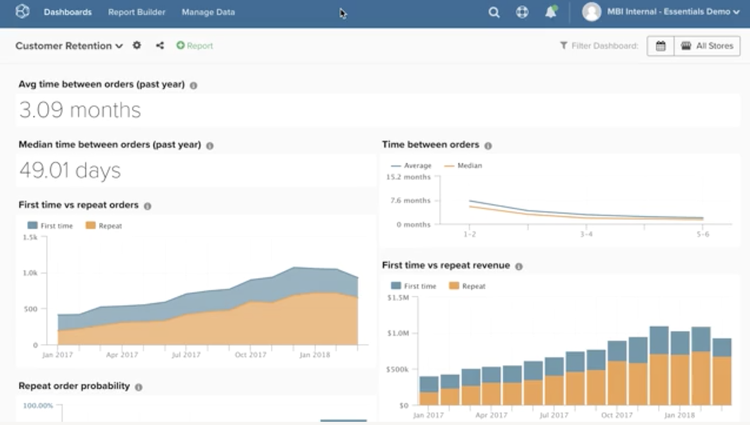 Page editing
Though getting Magento built may need some coding expertise, using most of its features, once established, is pretty simple, and editing pages is no exception. The layout is similar to a clean word processor, and adding sections is as simple as dragging and dropping and clicking on styles.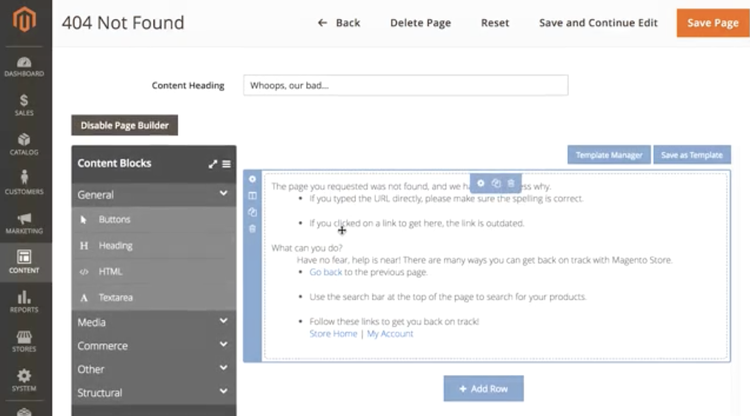 Multiple, detailed permissions
Magento is especially made for large organizations, so you are bound to have multiple users. Since not everyone needs access to the same things, though, you can create super-specific permissions.
While many software packages have this capability, Magento drills into an incredibly deep level, letting you assign and unassign specific actions, roles, abilities, and more from a very long and specific list.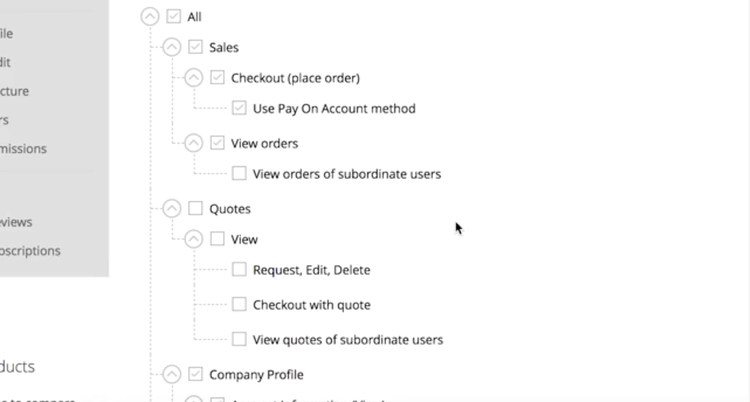 B2B negotiation
Magento uniquely offers B2B sales capabilities, as well as B2C, and one of the most helpful features is the ability to allow business customers to request quotes, be assigned unique discounts, and negotiate offers.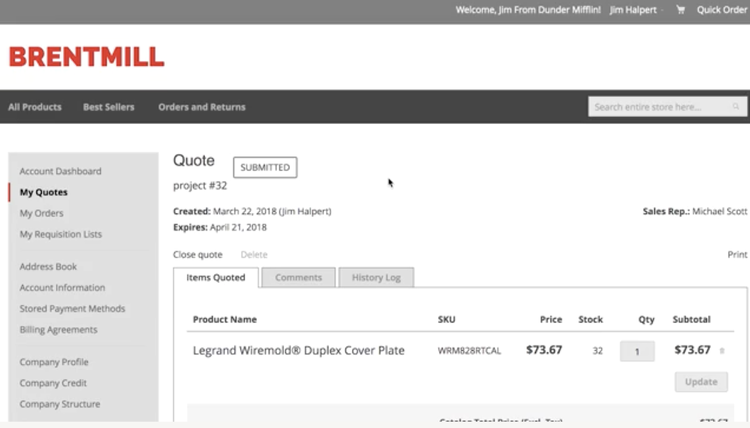 Extensions
Whatever you may need, you are almost assured of finding it in the Magento marketplace (formerly known as Magento connect), a.k.a. their hub of multiple add-ons.
Free and paid options are on offer, and you can browse through thousands of marketing extensions, payment plug-ins, dynamic themes, accounting features, etc. You can make your Magento website be whatever you need it to be.
Multi-source order and inventory management
Keeping inventory accurate and in sync is a big deal, especially if you have multiple points of purchase (online shopping, retail stores, events, etc.), so having a full view of where orders are placed, plus available inventory, is essential. The inventory management tool is one of Magento's B2C powerhouse capabilities, letting you manage and control customer orders.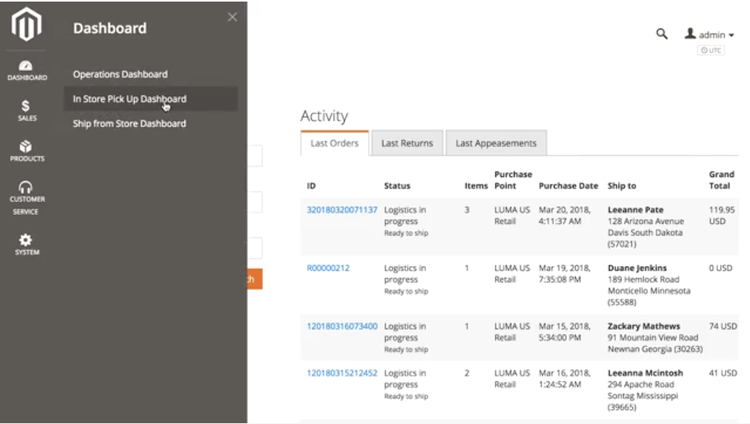 Magento's ease of use
Magento is not tech novice software. Getting it set up and maintaining it requires a developer and, most likely, a full department. While certain aspects are intuitive, there are so many levels and details that there is for sure a learning curve with it. Use Magento if you are a larger business with a lot of growth, rather than a small business.
The day-to-day use is relatively straightforward, and you can navigate around the backend with ease. However, even though the software download is open source, it is not beginner-friendly. Without a professional, you will be most likely in over your head.
Magento's pricing
Pricing gets a little complicated. While, yes, the basic version is free to download and open source, if you plan on running anything more than a small do-it-yourself business, you'll need to upgrade to a paid version.
Upgrading will let you ramp up your business, make hosting available, give you access to SEO, increase reporting, have initial technical support, etc. Still, Magento is among the most expensive options out there.
The cheapest paid plan, the Magento Commerce Starter plan, rings in at $1,999/month, but you can quickly go up to $3,399/month for more features and more technical assistance.
Judging the pricing of Magento, then, is a bit trickier, as you start at $0 but suddenly are catapulted way up into the thousands of dollars a month.
Magento's support
The Magento site itself is a warehouse of resources, videos, and guides, and there is an active Magento community, too. However, there is no direct support available to customers, so there's no one to go to with questions.
If that isn't an issue, though, you will find their web tools very helpful. For maintenance, you should be working with a developer so they should know or have access to knowledge of most of the site-building questions.
Benefits of Magento
Magento brings a ton of features to the table, so customizing and growing are never going to be a problem. There is also a huge user community, giving you practical support even without a one-on-one customer representative. The marketplace offers a ton of app add-ons, so whatever you need, you're all but assured to find.
Magneto is best for big businesses
While it has a lot to offer, it's almost too much to offer for smaller companies. Magento certainly is quality e-commerce software, but it will require time, money, and maintenance that is best left to larger enterprises. If you do have the means to use it and the need, you certainly can't go wrong with Magento.