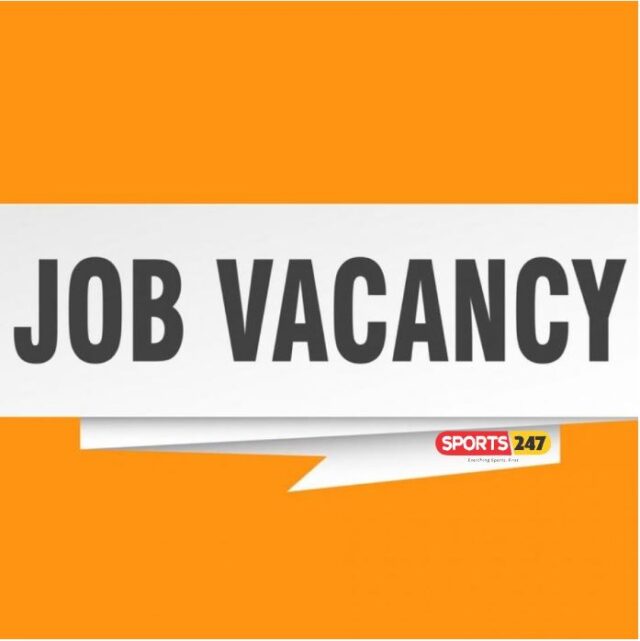 Sports247.NG brings you, our sports loving audiences the latest Job Vacancies in Nigeria For Today Tuesday 10th January 2023.
Vacancy
BA needed for Custard Powder products activation. 3k per day. Contact Mc Mercury 234 806 526 2009
Note- it's a sales job but without target
Backend Engineering
Preferable Location(s): Lagos, Nigeria
Requirements
3+ years' experience performing similar functions
Good knowledge of TypeScript for the backend (NodeJS)
Good, working, knowledge of a Git
Good, working, knowledge of the SQL query language (MySQL flavor). [Knowledge and understanding of ORMs is a plus]
Good, working, knowledge of NoSQL databases (MongoDB especially). [Knowledge and understanding of ODMs is a plus]
Ability to understand business requirements and translate them into technical requirements
Competencies/Skills
Excellent verbal and written communication skills
Creativity and resourcefulness
Organizational and time management skills
High analytical and problem-solving skills
Detail-oriented and quick to learn
The ability to work independently and as part of a team
https://lendsqr.freshteam.com/jobs/KVg9AtKMWOVF/backend-engineering
Vacancy!!! Vacancy!!! Vacancy!!!
Whipsmart service providers limited is recruiting for the position below
Position: Caregiver
Age: 25-40years
Tribe: open to all
Livein
Salary: 50k- 55k
Location : Lagos
Must have some years working experience as a caregiver.
Pls call 09131150190 or 07083654099
Urgent Vacancy!
A reputable Logistics company established in 2012 with the purpose of transporting both semi and finished goods from Companies to wholesalers and final consumer, is recruiting suitable candidates to fill the position below:
Job Title: Secretary
Location: Iseyin, Oyo
Employment Type: Full-time
Responsibilities
Organizing meetings and conference calls, including scheduling, sending out meeting invitations, collating relevant documentation and sending out agendas
Recording meeting minutes
Coordinating travel requests from project team members, including travel concurrences where necessary, per diem requests, and all other travel logistic matters in line with the Company's travel process
Assists in gathering information for status, progress and narrative reports
Assists in gathering information for communications (including press and social media)
Assist with record keeping and document management for the team.
Requirements
Candidates should possess an OND / HND / B.Sc Degree with 2 – 5 years relevant work experience.
Salary
N80,000 – N100,000 Monthly.
Application Closing Date
28th February, 2023.
Method of Application
Interested and qualified candidates should send their CV to: coprex24@gmail.com using the Job Title as the subject of the mail.
*JOB TITLE: 3D Painter
LOCATION: LAGOS
Job Overview
We are looking for a skilled Artist to join our production team that is responsible for the surface finishing of our products. Your job will be important as a good exterior finish is integral to our business. An excellent fit for this role is knowledgeable in selecting the right material for their job. They have experience in painting with various tools and in various heights and spaces while observing all safety measures. The goal is to deliver high-quality work.
Job Functions
Read blueprints/instructions and examine surfaces to determine the kind and amount of work necessary.
Make on-site preparations for surface finishing.
Prepare surfaces for painting by scraping, using sandpaper, removing old paint etc.
Fill cracks and holes with appropriate material (e.g. plaster).
Mix paint and other materials to prepare the right colour or texture.
Paint surfaces according to instructions with various tools.
Apply varnish and other finishes.
Calculate costs and negotiate prices.
Take and adhere to all health and safety precautions.
Qualifications and Requirements:
Education in fine arts or any related field
Proven experience as a painter.
Excellent knowledge of painting material and how to select, mix and apply them.
Solid knowledge of painting techniques.
Aptitude in using appropriate tools (brushes, caulking guns etc.)
Good basic maths skills
Manual dexterity with excellent balance to work on scaffolding, ladders etc.
Strong interpersonal relations skill
Time management and planning skills
Conscientious with great attention to detail
Method of Application
If you meet the requirement and interested, please send your CV to talent@lightandraconsulting.com using Job Title as the subject of the mail.
Note: Only qualified candidates will be contacted.
Job Title: Customer Service Representative
Location: Abuja
Job Description
This is the first point of Contact of the company and will be primarily be responsible for engaging with all the Customers of the company, giving accurate information to all product and services inquiries. The Customer Service will also be responsible for handling basic operational duties especially in coordination of the activities of people at the Office.
Requirements
1 -2 years relevant work experience is acceptable.
Proficiency in the use of Microsoft Office
Excellent verbal and written communication skills (This is  important)
Excellent Interpersonal and negotiation skills.
Application Closing Date
20th January, 2023.
Method of Application
Interested and qualified candidates should send their authentic, brief but concise CV to: aderonkeitunu@yahoo.com  using the Job Title as the subject of the email.
Note: Only qualified candidates will be contacted.
We are Hiring!!!
Role:  Accountant
Location: Agungi [ONSITE] Proximity to the island is an added advantage
Industry: Manufacturing
Pay: 150,000-170,000.
Minimum of 2 years' experience in similar role, with a working knowledge in excel or any accounting software.
Interested and qualified applicants can send their CV to oogunyeye@hytng.com
stating the role as the subject of the email.
Maid needed
Must live around Jakande to vi  (Island)
3 times a week
Call: 09060802867
Age between 20-30 years old
No accommodation
Pay 30k
Job Title: Senior Software Engineer – App Stores Backend
Location: Lagos (Remote)
Summary
This is an exciting opportunity for an experienced Software Engineer passionate about open source software, Linux, and Web Services at scale. Come build a rewarding, meaningful career working with the best and brightest people in technology at Canonical, a growing international software company.
Canonical's Store team develops and operates the backend services that power the Snap Store and Charmhub.io marketplaces. Our services are built primarily in Python, within a bit of Golang. If you have a passion for clean APIs, have a bias towards shipping and believe that tests are the key to higher velocity and reliability, you'll fit right in.
We have some exciting challenges ahead including continuing to scale our production architecture, expand the store backend to handle additional package types, and enhance our on-prem offering for IoT and Enterprise solutions.
Who you are:
You have a Bachelor's Degree or equivalent in Computer Science, STEM or similar degree.
You love technology and working with a diverse set of talented people.
You are curious, flexible, articulate, and accountable.
You value soft skills and are passionate, enterprising, thoughtful, and self-motivated.
You have a broad technology base but favor backend code and infrastructure.
You have proficiency developing public-facing APIs and web applications, preferably using Python and/or Golang.
You know your way around relational and non-relational databases and can effectively design data models that perform well, and tune queries to access them.
You are comfortable with Ubuntu as a development and deployment platform.
https://boards.greenhouse.io/canonicaljobs/jobs/4780586
JOB ALERT
Professional Tailors Urgently Needed
REQUIREMENT; Ability To Cut And Sew The Following Styles CASUAL SHIRT, POLOS, CORPORATE SHIRTS AND PANTS, JACKETS, SHORTS, NATIVE.
SALARY; COMMISSION BASE
WORKING DAYS/TIME; Monday- Saturday, 9am – 6pm.
LOCATION; WESTERN AVENUE OJUELEGBA.
THERE IS NO ACCOMODATION
To Apply Chat 07010594801 via whatsapp or kindly refer someone
Workforce is recruiting for a client:
Role: IT Service Desk Analyst
Location: Marina, Lagos
Salary: 102,000 Net
Sector: Banking
Age: 28 years and below
Candidates should be proficient in the use of MS excel, CRM, ITIL and data visualization tools.
Job description:
provide First level IT support Call prioritization, categorization, escalation/referral, and resolution,
Weekly report to Unit head on number of Logged, open, and unresolved requests
Assigning users requests to different workgroup using fresh service
Resolving IT Issue through phone/ Teams/ email /service desk portal Service desk alongside other first level functions
must resolve 35% of all tickets logged against Technology Group
Interested and qualified candidates to send CVs to recruitment@workforcegroup.com
We are hiring!!!!!
JOB TITTLE: Business Development Officer
DEPARTMENT: Business Development
JOB TYPE: Full Time
LOCATION: Lagos Island
SALARY: 80,000
RESPONSIBILITIES
Client management both existing and new clients.
Regular reporting on sales and marketing activities.
Deliver on sales strategies for different industries and client's base.
Follow up new business opportunities and set up meetings with clients.
Meet weekly, monthly and yearly departmental targets and expectations.
Report daily, weekly and monthly activities on tasks, deliverables and project assigned.
Attend major events for networking and represent the Company for networking session and function.
Generate new leads through networking and prospecting through calls, emails and visitation to client organizations.
Generate new business opportunities and follow up on related sales of services and solutions to new and existing customers.
Give feedback to your Line Manager and HOD on ways to enhance sales, and improve Company brand recognition and reputation.
REQUIREMENTS
HND or Bachelor's degree.
Professional certification will be added advantage.
1-2 years experience in Business Development/Marketing or similar position.
Integrity.
Attention to detail.
Ability to work with targets.
Sales and customer service skills.
Confident and pleasant personality.
Professionalism and confidentiality.
Strong analytical and problem-solving skills.
Excellent interpersonal and negotiation skills.
Excellent writing and verbal communication skills.
Ability to build and maintain positive work
Qualified candidates should click the link below to apply or send their CV to the email address below:
https://56bridge.com/jobs/business-development-officer-1615
Willoughbyvictoria8@gmail.com
Please NOTE : registration on the link provided validates your application
A school in Lekki Lagos urgently requires the services of an English Teacher.
Requirements
Minimum of 1st degree B. Ed, BA. Ed, Bsc. or other equivalents. An interested person should be a strong Social science graduate with a strong bias for literature.
Qualified candidates should send  CV to: seyidavidoke@gmail.com
Note: Only candidates living close to lekki will be given consideration.
Urgent Hiring!!
Job Title: IT support
Responsibility
Installing and configuring computer hardware, software, systems, networks, printers, and scanners
Monitoring and maintaining computer systems and networks
Responding in a timely manner to service issues and requests
Providing technical support across the company (this may be in person or over the phone)
Setting up accounts for new users
Repairing and replacing equipment as necessary
Testing new technology
Requirements
B.sc in Computer science,
computer
engineering or related
Location : Remote but must reside in Lagos, as your present would be needed in the office once in a while.
Pay: 100k
Ideal candidate should send CV to patience@dwightpatterson.co.uk

Urgently Hiring
Role-VAN SALES REPRESENTATIVES
Location-Lagos (Ajah and Mile-12)
Salary:50,000 Net+ 50,000 Commission on Target = 100,000
Min Qualification:OND/NCE
Must possess a valid driver's license.
Must be able to drive manual vans.
Interested candidates can apply by sending a CV to info.entedge@gmail.com
VACANCY
JOB TITLE: 3D PRINT ENGINEER
WORK MODEL: ONSITE
LOCATION: LAGOS
SALARY RANGE: N300,000 – N400,000 (MONTHLY GROSS)
Responsibilities and Duties
Optimization, customization and operation of 3D printing technologies including creating and processing 3D CAD files for printing, post processing of 3D models, developing and utilizing 3D printing materials.
Periodic care and maintenance of printers and associated equipment to include cleaning and performing scheduled calibrations.
Project request engineering and design support.
Primary point of contact to meet with team leads and internal customers across divisions, evaluate and process 3D requests as well as assist in making iterative modifications to the 3D models as required.
The scheduling and tracking of 3D print jobs and the organization of designs in a central 3D print library to enable reuse of designs.
The administration of the CAD and other 3D printer management software applying product updates when necessary.
Working with suppliers on the installation, maintenance and movement of hardware and software.
Management of the capacity and shift workload to appropriate 3D technologies internally and externally with preselected suppliers.
Study existing procedures and formulate appropriate strategies that facilitate our expansion.
Qualifications:
B.Tech/HND in Mechanical Engineering, or equivalent fields
3 – 5 years' experience with 3D printing technologies (FDM and SLA) in a commercial/industrial setting.
Strong experience in the fields of manufacturing or engineering is an added advantage
Hands-on experience in operating and maintaining 3D print /industrial equipment.
Demonstrated experience in project lifecycle to include design and engineering, printing, post processing and testing for form and function.
Demonstrated experience working hands – on with multiple projects at a time with rapid turnaround.
Excellent oral and written communication skills.
Excellent facilitation, consultation, and Influence skills.
3D CAD experience.
3D Simulation Experience.
Material science experience specific to 3D printing materials.
Knowledge of 3D wide range of printing technologies (FDM, Stereolithography, Material Jetting, Powder Bed Fusion, Binder Jetting, LOM, Direct Energy Deposition).
Ability to build and work across divisions as well as internal and external teams and vendors.
Method of Application
If you meet the requirement and interested, please send your CV to talent@lightandraconsulting.com using "3D PRINT ENGINEER" as the subject of the mail.
Note: Only qualified candidates will be contacted.
Post Views: 104