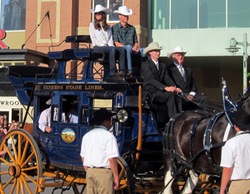 We use materials and construction methods authentic to the time period to make our wagons as accurate as possible.

Letcher, S.D. (PRWEB)
July 14, 2014
Doug Hansen and his team of craftsmen at Hansen Wheel and Wagon Shop completed a 700-hour refurbishment of the stagecoach that ferried Prince William and Princess Kate during their visit to the states in 2011. The royal couple rode tally-ho in the fancy Touring Concord Coach owned by Express Employment Professionals at the Calgary Stampede.
The high-profile coach made its post facelift debut at a wedding in Canada in June. Originally built by Hansen Wheel and Wagon a decade and a half ago, the iconic stagecoach is a replica of the coach serving Stony Brook, Long Island in the 1800s, and is designed to provide passengers with a panoramic view from the roof seating positioned 12 feet above ground.
The facelift required that the coach be almost completely dissembled for repairs and refinishing. A show-quality finish was meticulously applied to the stagecoach body and running gear. Ornate striping and lettering, along with gold leaf scroll work and scenic hand-painted murals on the doors, were then painstakingly added. The stagecoach seats were re-upholstered in rich, Italian leather.
Used to promote the brand of Express Employment Professionals the coach is operated by Express Clydesdales Ranch in Yukon, Okla. "The stagecoach captures the essence of nostalgia and is a great marketing image," said Doug Hansen, founder and owner of Hansen Wheel and Wagon. Other companies that have successfully implemented the nostalgic appeal of the horse-drawn vehicles into their corporate branding are Budweiser and Wells Fargo Bank (also Hansen Wheel & Wagon Shop clients).
Hansen opened up shop in 1978 on the Dakota Plains building and restoring custom stagecoaches, wagons and wood wheels. "I've been around horses and wagons all my life, so becoming a wagon maker seemed a natural way to bring my heritage together with my love of western history to preserve that legacy for the future," Hansen says. Thirty-six years later, the shop is the premier builder of authentic horse-drawn vehicles worldwide.
Hansen's customers range from museums and collectors to corporate marketing departments and theme parks such as Disney and Knott's Berry Farm. International customers include an amusement park in Japan, a historical society in Denmark, and a private ranch in Uruguay. Nearly a third of Hansen Wheel and Wagon Shop's business comes from interior designers and film production prop departments. Hansen wagons have been cast in movies such as "Dances with Wolves" and "Pirates of the Caribbean."
Hansen renovates vintage wagons and also builds wagons from the ground up, using original historical designs. "We do museum-quality restorations and replicas of historic vehicles, starting with careful research and documentation," Hansen said. "We use materials and construction methods authentic to the time period to make our wagons as accurate as possible."
While Hansen's products are firmly rooted in the past, the company's reach is high tech through its Magento ecommerce website, http://www.hansenwheel.com. "Our online ordering and secure payment capability allow customers to shop with us 24-7," Hansen added. "We're excited to bring our quality and craftsmanship to wagon enthusiasts around the world."
For information about Hansen Wheel and Wagon Shop, contact:
Doug Hansen

http://www.hansenwheel.com

or visit the company's Facebook page, HWWS Facebook
Share article on social media or email: