November 9, 2022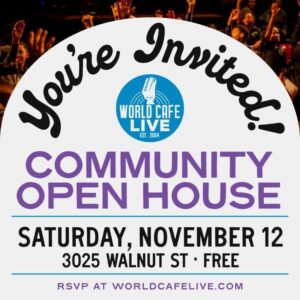 Philly's non-profit music venue World Cafe Live is inviting local community members – parents, students, and patrons – as well as fans of music everywhere, to join them on Saturday, Nov. 12 and experience a selection of WCL's upcoming programming.
This event will be completely free to the public, fit for everyone! At 10:30 a.m., WCL's Artistic Director of Education & Engagement, Josh Campbell, will host a Coffee & Conversation where he'll talk about what his organization has been building for its guests and community.
At 11:00 a.m., Guachinangos will present one of WCL's flagship Bridge Sessions, diving into son jarocho and cumbia traditions in the venue's legendary Music Hall. This will transition directly to an interactive songwriting workshop with a WCL teaching artist, so attendees are encouraged to stick around for the fun. Admission will be on a first come, first served basis and RSVP is required (click here to register).
"We pride ourselves on being a place where artistry meets [social] impact and are hoping to expand this impact with an upcoming Community Open House on November 12th, 2022," writes Jacinda Arellano, Program Manager.
For more information about World Cafe Live and its programming, visit: https://worldcafelive.com.