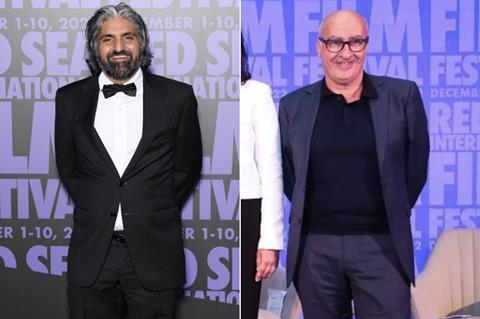 Kaleem Aftab and Antoine Khalife, lead programmers of the Red Sea International Film Festival (RSIFF), are clear there are no mandated restrictions on the films they can select for the event, which is funded through the Saudi state's Red Sea Fund.
"No, no, no, we do not discuss it at all outside of our programming team," says Khalife. director of Arab programmes and Film Classics. "I programme the best films," adds Aftab, director of international programming, who says the process is no different than for any other festival. "There are cultural sensitivities over every single film festival around the world. Cultural sensitivity plays a part in every programming decision."
When making his choices, his only thought is "what is the film going to look like in the programme that we have?"
This means they have the freedom to programme films with LGBTQ content, even though it is illegal to be LGBTQ in Saudi Arabia. Khalife cites Maryam Touzani's The Blue Caftan, which plays in the Festival Favourites section following a Cannes Un Certain Regard premiere, and centres around a gay tailor who is not open about his sexuality.
"We really fell in love with this film," Khalife explains. "It was evident that we had to have it. When I do my programme, I need to defend this film with the president [Mahmoud Sabbagh, president of the RSIFF Foundation], with Shivani [Pandya, RSIFF managing director]. I learned that when we love a film a lot, we will find the good words to defend it, to have it."
Does it matter they may be screening romantic and sexual content that runs counter to Saudi law? Aftab takes issue with the framing of the question. "You're saying there is a heterogeneric Saudi person. It's a country of 35 million people – there are a lot of diverse opinions within that. There are a lot of different classes, a lot of different views of everything from politics to what their favourite food is.
"Thinking that there is only one audience is a huge mistake. And looking at Saudi Arabia as a monolithic whole is a huge mistake – it would be like me saying that everyone in England is a white British Brexiteer."
Aftab is cognisant of the power of film festivals to change minds. "We look at the history of the London Film Festival: we look at what Peeping Tom did, and we look at what films about capital punishment did in the past." He notes Western nations may also not be clear in this regard. "Look at America today, with Roe vs. Wade being overturned. Things can go backwards and forwards. Every society has imperfections, every society deals with it." He certainly won't bow to social media talk about the event. "We don't live on Twitter; we live in the real world, and we programme for that."
Cultural discussions
Concerns around cultural differences have occasionally been a topic of conversation with filmmakers when trying to secure titles for the festival. "In the beginning, yes, there was a lot [of concerns]," says Khalife. However, he says those have diminished as awareness of the festival has grown, and are less applicable for his Arab sections anyway. "It is easier for me because many of these filmmakers are from the region, so they want to come because Saudi is one of the biggest markets in the Middle East. It's important for them to promote their films and to do business here."
Aftab is speaking to international filmmakers who hail from further afield. "[Cultural concerns] have occasionally come up. I never try to persuade someone; I always acknowledge that there's a range of opinions. All I can do is put on a programme and let people judge."
Both Aftab and Khalife are veterans of the international scene – Khalife as a former head of festivals and films at Unifrance, Aftab as a London-based journalist. In his programming role, the latter is going to slightly fewer festivals now; it is about targeted trips, rather than being everywhere all the time. He recently returned from Lagos, Nigeria, where RSIFF sponsors the African International Film Festival, and he was trying to get more filmmakers from the continent to apply for the Saudi event. He was also present at Cannes, Venice, and Toronto this year, where he is having conversations with "a mix of producers, directors, sales agents and Middle East distributors" about if and how their films will fit into the programme. "We're making some inroads – that's part of the journey. We're not even toddlers yet."
Aftab views last year's first edition as a different festival, due to the ongoing spread of the Omicron Covid variant. The lessons learned will be from this year to take into 2023. For Khalife, he has "an obsession" with full theatres. "This is what I'm expecting. I hate when the theatres are not full." This year's festival has moved the majority of screenings to 10 screens at the Vox venue in Jeddah's Ash Shati district. "I'm excited to meet the Saudi public in the theatres. I want them to feel the festival participation – this is something completely new in this country. They don't know about film introductions, Q&As, meeting the directors," says Khalife.
Festival schedule
In a jam-packed yearly schedule, Red Sea looks mainly at the late autumn festivals for its international selection. "The world has changed so drastically with film festivals," says Aftab. "The old days where a film would float around festivals for 12 months have effectively ended with streamers. We can't look too far in advance now; Venice, Toronto, San Sebastian are big pick-up moments for us."
Timings are more pertinent for Khalife's Arab titles – RSIFF requires an Arab premiere for its competition films. He isn't in the business of fighting for titles, however. "If the producer really wants to go to Cairo or Marrakech, I respect this; but I give them all the reasons why they should come to Jeddah." He was happy to programme Yasmine Benkiran's Moroccan Venice Critics' Week title Queens, which had its MENA debut at Marrakech Film Festival in its native Morocco last month.
The Moroccan films are among those Khalife is most proud of this year, with one from the country in each of his sections, including Adnane Baraka's Locarno premiere Fragments From Heaven; and Omar Mouldouira's A Summer In Boujad in competition.
Aftab is proud of programming several European films by second-generation immigrant directors, including Fatih Akin's Rheingold and Alice Diop's Saint Omer. "In terms of diversity and cultural bridges, we've hit amazing inroads that would stand up against any festival in the world."
A major football fan, he has even snuck some football-themed content into the programme to coincide with the World Cup taking place in neighbouring Qatar. Titles include UK director Gurinder Chadha presenting her 2002 comedy-drama Bend It Like Beckham; and The Heysel Tragedy, a Belgian-Italian docuseries about the 1985 football stadium disaster – "maybe if it wasn't a World Cup year, I might not have programmed it, but it seemed to fit." After a shock victory over Argentina in its opening game, Saudi Arabia's elimination the day before the festival kicks off could free up audiences for evenings in the cinema.
Aftab is confident the programme will challenge local audiences without putting them off. "We all know that the festival tries to push boundaries. But as with every festival around the world, you've got to have an understanding of cultural parameters. I'll let the audience decide for themselves."