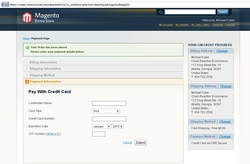 "With its easy setup, and offered as a PCI certified hosted solution, CRE Secure opens up a high security option to online businesses running Magento ecommerce stores

Atlanta, GA (PRWEB)
January 11, 2010
CRE Secure, the first cloud-based payment acceptance security platform that is fully compliant with new credit card security rules, announces the release and general availability of a drop-in module for Magento Ecommerce community edition shopping carts, a leading open source ecommerce solution. The new Magento Ecommerce module further expands the list of leading online shopping cart integrations that CRE Secure has developed to allow online retailers and web-based applications easy connection to CRE Secure's online payment acceptance and security services. CRE Secure using its patent pending HTML Clone™ technology isolates sensitive cardholder data from any online store or application, and greatly reduces the complexity and associated costs of achieving compliance with Payment Card Industry Data Security Standards(PCI DSS) requirements.
"I heartily endorse the CRE Secure payment module for online shop owners who want to open a Magento store without spending thousands on your own PCI secure dedicated server," says Kerry Watson, author of the user-friendly osCommerce Manuals Series including the ShowMe Guide Manual for Magento. "Following the PCI Compliance rules, I found using CRE Secure made it much easier to install and automatically looks just like my online store".
"CRE Secure is the only payment system that automatically protects both cardholder privacy and the ecommerce merchant from potential attacks by combining a 100% outsourced payment solution with a patent pending process that mirrors any retailer's website design and uniquely serves up a PCI compliant hosted payment page to the end user," says Greg McGraw, CEO and President of CRE Secure Payments. "When a Magento online store is powered by CRE Secure's HTML Clone™ technology, shoppers never know they left the site when they're ready to pay, even though their payment transactions are hosted in one of the most secure PCI-compliant data centers in the country."
CRE Secure takes the worry out of the daunting PCI-compliance process. The service–which is available for a free 30 day trial and thereafter for a nominal fee per month–integrates with retailers' existing online shopping cart programs or custom developed ecommerce applications and connects those programs to popular payment gateways like Authorize.net, PayPal Payflow Pro, PayPal Website Payments Pro and Chase Orbital. CRE Secure continues to roll out new secure connections to all major payment gateways and online shopping carts to meet the increased demand for payment acceptance security.
"The Magento module and the CRE Secure service are clearly filling a gap that is needed in the security arena; accessible PCI compliance for the average independent e-retailer," says Jeremy Dost, founder and owner of Sharpdot, a certified Magento community developer. "With its easy setup, configuration and offered as a PCI certified hosted solution, CRE Secure opens up a high security option to many more businesses running Magento community shopping carts. By providing the Magento template functionality, CRE Secure is allowing designers the freedom that they expect," added Dost.
CRE Secure's payment modules for leading shopping carts and the custom API toolkits for enterprise merchants or unique online applications are available for download from http://www.cresecure.com.
About CRE Secure
Data breaches. Identity theft. Payment Card Industry (PCI) security compliance.

CRE Secure Payments is a cloud-based internet payment security company and a wholly owned subsidiary of a venture backed leading open source eCommerce software company. CRE Secure Payments is a Level 1 certified PCI DSS service provider enabling many leading ecommerce shopping carts distributed worldwide for secure PCI compliant hosted, payment processing solutions using patent pending technology and through its partnerships with top global payment gateways and merchant acquiring banks. For more info, visit http://www.cresecure.com or call (800) 609-2141.
###
Share article on social media or email: