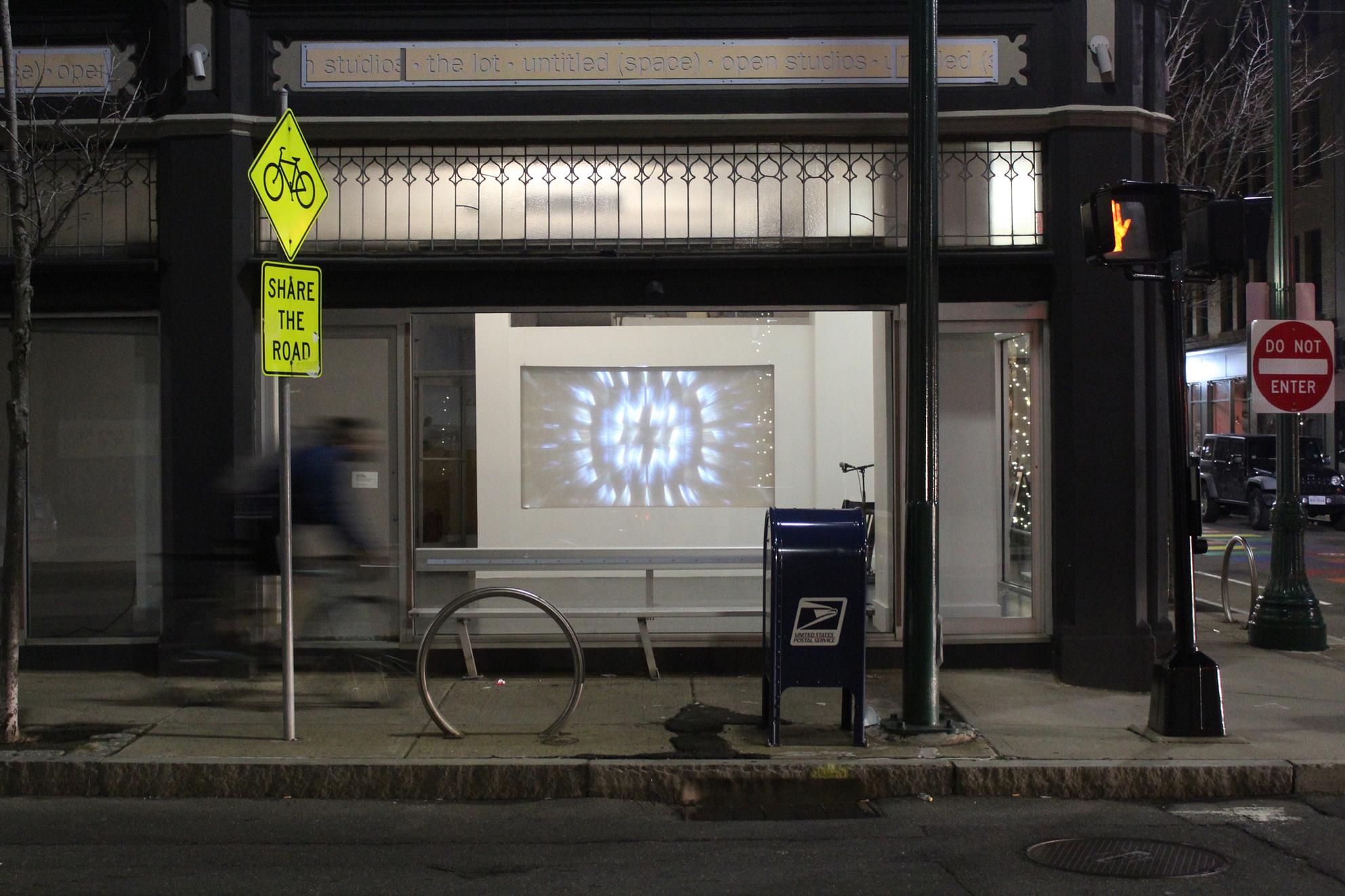 The intersection of Orange and Crown can be quiet this time of year, as it gets cold and the street has opened up again to traffic. But there's still foot traffic, a passing car, a man flitting by on a bicycle. And now, in the windows at Artspace, a series of projections, of shapes that move and change, looking first like crystals, then reflections in glass, and sometimes perhaps like physics experiments. They invite anyone to stop and linger, and maybe even get a little lost. But maybe the most intriguing thing about them is that they're not films; they're digital animations. They're just lines of code.
The projections make up ​"Spark Studies," a project by New Haven-based artist Jason Ting now showing in the windows of Artspace on the corner of Orange and Crown through the end of the month. Ting describes himself in a personal statement as a ​"new media artist" who ​"uses a variety of creative coding tools to create abstract animated visuals that explore the interaction of form, color, and motion. His work is inspired by forces found in nature, geometric patterns, and light." Some of his previous work has been more colorful and more abstract, less immediately reminiscent of natural forms than the pieces in ​"Spark Studies" are. Others have played with human forms that unfurl into smoke and re-form as humans again. Tying all of his work together is the pace of the transformations he seems most attracted to; his pieces are kinetic without seeming frantic, deliberate without being slow. They move at the pace of flickering fires or ocean waves — in other words, things humans tend to enjoy staring at for long periods of time.
Ting's pieces in ​"Spark Studies" are notable for how often they resemble images that could be created through analog means. They could be snowflakes, or light refracted through drops of water, or colors projected through kaleidoscopes. That they're coded — that is, generated through computer programming — says a lot about Ting's exacting eye and coding abilities, and also about how powerful visual computing tools that were once only accessible to major science labs and big Hollywood special effects studios are now available to individual artists. 
Questions about computer-generated art broke into wide public consciousness in September, when artist Jason M. Allen won a painting contest at the Colorado State Fair with a piece of AI-generated art. Since then, many visual artists have spoken up about everything from the demise of their craft to the theft of their intellectual property, as many AI art generation apps were ​"trained" by uploading images of the work of existing human artists. The questions swirling around the visual art scene are new iterations of both questions about art whenever a new medium has hit the scene, and questions about cognition and creativity that have nagged at us since the dawn of computing. Are people who use AI-generated art apps ​"artists?" Can a program be ​"creative?"
Many facets of the current version of the debate have rested on the old, John Henry-like tendency to pit human against machine, suffused with the tragic sense that the humans will eventually lose. Work like Ting's, meanwhile, suggests that a deeper understanding may be in order. If we accept applications and artificial intelligence as tools or collaborators (depending on whether we understand them as ​"intelligent" — a whole other ongoing debate that eventually turns on the slippery question of what exactly constitutes thought anyway; is what goes on in our brains really substantially different from code? And how do we know that for sure?), we can move forward into different ways of artmaking that ultimately place the value on the work itself, rather than how it was made. 
If previous infusions of technology into the visual arts — from the industrial manufacturing of paint to the advent of photography, film, and video — are any indication, the field of visual arts still has plenty of room for the newest ways of artmaking to take their place next to the oldest. ​"Spark Studies" points the way toward a more nuanced understanding of how coding can be used to create. 
"Spark Studies" appears in the windows of Artspace, 50 Orange St., after dark through the month of January.
Sign up for our morning newsletter
Don't want to miss a single Independent article? Sign up for our daily email newsletter! Click here for more info.