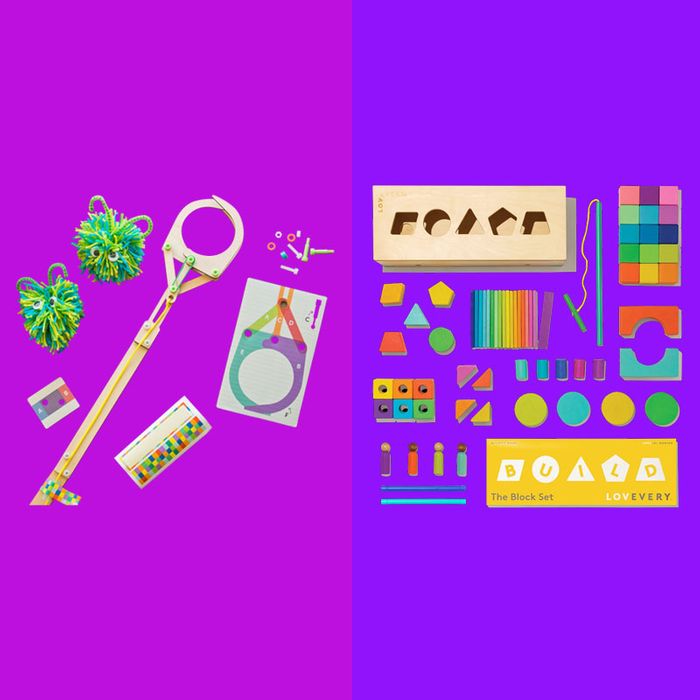 Photo-Illustration: The Strategist
The STEM category is only about 20 years old, but educational toys are nothing new. One of the first STEM toys — the acronym stands for science, technology, engineering, and mathematics — has to be the wooden-block play set designed in the 1840s by German educator Friedrich Fröbel, the inventor of the kindergarten. A few decades later, board-game manufacturer Milton Bradley brought the idea to the U.S. and began producing educational wooden blocks for the masses. While they're still a popular choice, we've come a long way; now, there are app-connected coding robots, logic games that involve lasers, and subscription project kits for kids of all ages.
"You're looking for toys that are going to teach about concepts like numbers, mathematical thinking, and physics and that nurture visual-spatial capacity, talk about cause and effect, and encourage creativity," says Dr. Laura Phillips, a pediatric neuropsychologist and senior director of the Learning and Development Center at the Child Mind Institute. She also recommends toys that are open-ended, relate to the real world, encourage trial-and-error exploration, and are replayable.
As there are seemingly endless cool options to choose from, we asked Phillips as well as Dr. Carla Johnson, a professor of science education at NC State University and the president of STEM Innovations, and Yesim Kunter, a play expert and futurist who has done stints at LEGO and Hasbro, for their recommendations on STEM toys to encourage learning in fun and engaging ways.
Wooden-block toys are the original STEM toy for a reason: "A toy that's more open-ended, requires a lot of creativity, and can be used in different ways just has more staying power," says Phillips, and seasoned parents will agree that there's nothing more practical or useful to have in the home. While she didn't recommend a particular set, I like the one from Lovevery, which has more opportunities for creative play than most sets do because it includes wheels, a bead threader, a rolling ramp, and a shape sorter. (For a set without these extras, the Melissa & Doug 100-piece colored-block set is a popular option.) As children grow, they'll find new ways to engage with the blocks and be introduced to more complex concepts along the way.
Like wooden blocks, Magna-Tiles are an open-ended toy beloved by many developmental experts as well as families, and anyone who has played with them knows the satisfying click made by two magnetic tiles connecting. They're not new to the STEM scene by any means but are a solid gift option because having more tiles lets kids go bigger with their creations. "Magna-Tiles are the best toddler toys ever," says Kunter. "They're simple, with different colors, different transparencies, and different shapes, and kids learn how things come together to make something." The tiles connect to build flat or three-dimensional shapes, and they help develop fine-motor skills, concentration, and focus. Magna-Tiles are still one of the most used toys by my 5-year-old, who creates patterns, structures, and imaginative creatures, and from a parent's perspective, they're durable and easy to clean up.
Alternative sets can do the same things (most work well enough together regardless of the brand), like this 60-piece PicassoTiles set. Its magnets aren't quite as strong, so structures are slightly more prone to falling. But hey, that's all part of building frustration tolerance.
One of the best STEM toys for preschoolers is the Hape Monster Math Scale, says Phillips. "It's a brilliant way to show number concepts. And it's fun! My 4-year-old daughter has been playing with it nonstop." Kids can practice skills like identifying numbers, counting, sorting, and comparing. The scale has three difficulty levels that challenge children to use monster weights of different sizes and textures to balance the scales and learn basic mathematics like addition and subtraction. "It helps kids understand in a very concrete way the concepts of equality and quantity in terms of greater than and less than, and how numbers can equal bigger numbers when you put them together and smaller numbers when you pull them apart."
Kailan Carr's book supplies instructions for more than 100 fun and engaging activities that also happen to teach STEM skills and concepts. Projects include making slime, playdough, a lava lamp, a foam fountain, and a sticky-flower wall — all from materials already lying around your home. Carr helpfully lists the amount of time each activity takes as well as a messiness rating so you have a sense of what you're getting yourself into.
Phillips uses the book all the time. "There's a sensory component because you feel how the materials combine to form something different and new," she says. "It involves following directions, which helps support language comprehension and executive functioning because you do things in a step-by-step way. So you really need to be careful and thoughtful about how you sequence the directions appropriately."
There's probably no better way for a kid to learn about the wonders of metamorphosis than to see it happen up close. Phillips has used this kit to teach kids about cause and effect and the stages of life, and she says it also teaches patience: "A lot of toys have instant gratification, but it takes days to a week or two for the caterpillar to turn into a butterfly." While your kids are using the growing kit, Phillips recommends reading along with Eric Carle's The Very Hungry Caterpillar as a complementary way to bring in language and vocabulary.
"When we talk about coding, it doesn't always have to have technology," says Kunter. "What's important is that you learn the sequencing and patterns and how to create a language because, at the end of the day, coding is a language." Kunter recommends the screen-free Botley Coding Robot because of its simplicity and how it fosters abstract thinking. "Kids create a circuit and then this small robot moves around and you give it different orders," she explains. Children can create coding sequences of up to 150 steps, and Botley can play music and put on a light show and has interactive coding games and a few "secret" features that are fun to discover.
Brain-teaser toys are great for laying the foundations of STEM, says Kunter, and ThinkFun's Laser Maze is one of her favorites for building skills like problem-solving and critical thinking. "It's a very simple, smart logic game with a cause-and-effect solution," she says, adding that she likes how it doesn't rely on technology to play: Kids draw a card and use their reasoning skills to arrange beam splitters, mirrors, and other game pieces to solve the sequence and direct a laser to light up targets. With 60 challenge cards increasing in difficulty, there's a lot of opportunity for repeat play. "Toys that lend themselves to having children communicate about what they are doing can also work to build vocabulary," says Johnson. And once your child completes the sequence, they can walk through their decision-making process.
Thames & Kosmos makes a number of age-based STEM sets, but Kunter recommends the Water Power Kit in particular because "there's humor, there's fun, and there's a lot of learning." It gives kids hands-on engineering experience as they build different water- and air-powered models like a self-propelled car, a jet-powered boat, and a lawn sprinkler.
There's something Rube Goldberg–like in how delightful and satisfying it is for a kid to build and feed marbles into a good marble run. Kunter is a big fan of Gravitrax because it's one of the most interactive, beautifully constructed tracks. Kids can flex their creativity, spatial awareness, and problem-solving skills while experimenting with gravity, magnetism, and kinetics. "Gravitrax is cool because you are setting up the whole system and it's always changing," says Kunter. "There is cause and effect but in a very playful way. You create a ball maze, and every time, there's a different kind of solution."
"Any type of construction toy gives kids a lot of information," says Kunter, but one of her favorites for STEM learning is the Archi-Tech Smart House. Children learn the basics of electric circuitry, building a structure, and using wired-up sensors to set off lights, alarms, trapdoors, elevators, garage doors, and drawbridges.
For toys that combine STEM skills with artistic creativity, Kunter recommends KiwiCo's hands-on kits to ignite curiosity and spark the imagination. "To be able to create that wonder in a child is really important," she says. Each kit explores a new concept in science, technology, engineering, and math in a fun, exciting way. After following the simple instructions, kids are left with a toy they built and decorated themselves.
KiwiCo offers age-appropriate subscriptions and lets you purchase individual kits. My son has received over a dozen Koala Crates (ages 2 to 4) and Kiwi Crates (ages 5 to 8), and the biggest hit has been the Arcade Project Kit. He continues to use the claw months after constructing it, and the included magazine has additional game ideas for building your own home arcade.
The Strategist is designed to surface the most useful, expert recommendations for things to buy across the vast e-commerce landscape. Some of our latest conquests include the best acne treatments, rolling luggage, pillows for side sleepers, natural anxiety remedies, and bath towels. We update links when possible, but note that deals can expire and all prices are subject to change.